Gucci Towing – Surrey & Langley
Gucci is the highest reviewed towing company in Surrey and in Langley which offers many types of tow truck services. When you work with the best towing Surrey company, you can expect the fastest pick up times, great customer service in any emergency roadside assistance situation and 24 hour open times.
Customer Reviews of our Surrey Towing Company
Mike and Sara were great, showed up very quick and gave me a really good price!
Peter & Susan Longhi
2022-09-12
Gucci Towing showed up within 15 minute of being called, after waiting over 2 hours on the side of the road by the first company who never showed. They were prompt, professional and highly would recommend them.
Claudia Guillen
2022-09-12
Mike provided excellent service. He was patient, on time, and reliable. If I'm ever in need I would use him again!
Excellent experience with these guys the owner is very helpful and called to let me know exactly when he was going to be there! Absolutely will use this company next time!
Got here super quick and did a phenomenal job unlocking my car!
A special thanks to Mike for keeping my friends safe and getting his collector car home with minimal wait on a Sunday late afternoon.
Best towing in town
Gucci towing saved my life. I was shranded on the highway . my car was a mess. The owner helped me out. Thank you Gucci Towing for saving me
Surrey Tow Truck Services
Car Towing
Fast, reliable and affordable. With light, medium and heavy-duty tow and flat bed trucks in our fleet, we offer tows for all kinds of vehicles.
Flat Tire Change
A driver will experience a flat tire at least once during their driving career. We offer roadside tire change to help get you back on the road.
Scrap Car Removal
We are one of Surrey's leading Scrap Car Removal companies, with years of experience. No matter the condition, we can tow it all away!
Vehicle Recovery
Is your car stuck in a ditch, in the mud, in snow or even in the water, we can help you recover your vehicle. We have 8 trucks in our fleet to help you quickly.
Motorcycle Towing
Motorcycles require a special kind of flat bed towing in order to properly transport. Go with the company that has the necessary trucks to do this job.
Car Unlock Service
Many people will experience locking their keys in the car. Give us a call and our large fleet of trucks can help you within minutes of your call.
Gucci Towing Surrey & Langley has been located in Surrey BC since 2016 and we have become the highest rated towing companies in Surrey & Langley for a reason. We don't just provide towing services. We can tow motorcycles, RVs, shipping containers, boats and many more things that you need moved. And if you have a classic car or a luxury car, we can help you move your vehicle without a scratch. We're experts at recovery towing and we have many reviews that go on about how we were able to recover people's cars and other vehicles without any damage.
But there's so much more. We can also help if your battery died, if you need a battery boost, if you got a flat tire and need a change, and we can even help if you lock your keys in the car. With so many options, so many great testimonials, and some of the most affordable quotes, there really is no reason to choose another Surrey towing company.
We Have Many Cities That We Cover With Our Towing Service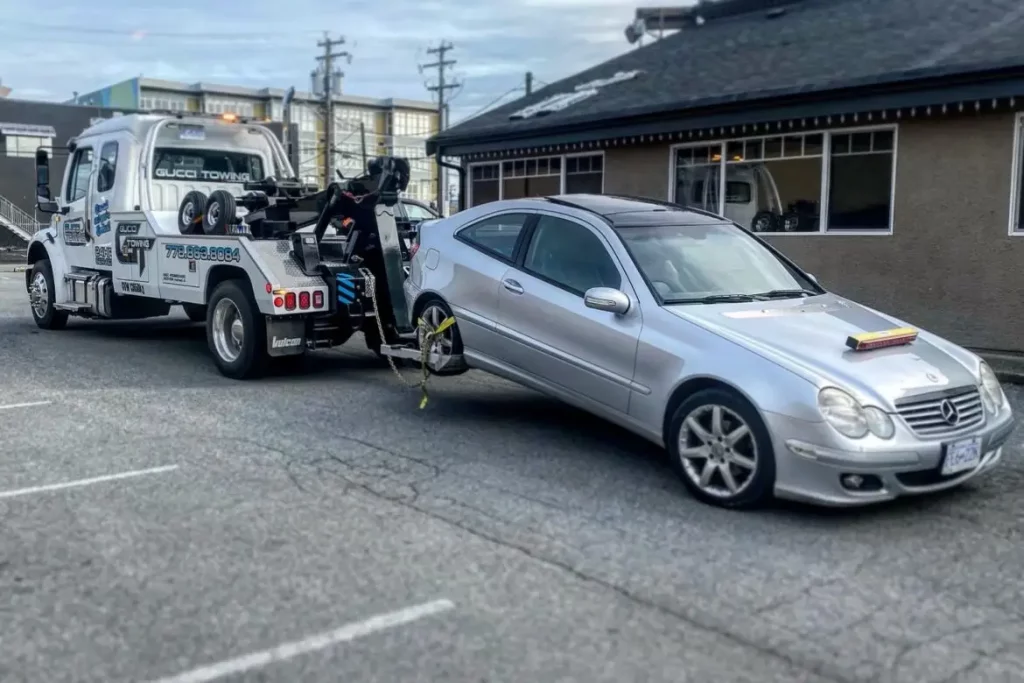 While our physical building is located right in between Surrey and Langley, we cover many more neighbourhoods besides Whalley, South Surrey, Newton, Guildford, Fleetwood and Cloverdale.
We try to get to customers within 30 minutes also in White Rock, Abbotsford, Pitt Meadows, Maple Ridge, Mission, New Westminster, Delta and Coquitlam. We even drive out to Burnaby and Vancouver for long distance towing. Speaking of Maple Ridge, we have also just opened an office there to make our towing services even faster.
With 8 trucks in our fleet, we are able to reach you quicker than most other companies.
No Surprise Cost
Many of our customers tell us stories of how other companies never mentioned their fees upfront. We here, at Gucci Towing, want to be transparent with our pricing and upfront. We are also very accommodating with our payment options. We accept in-person cash or card payments, as well as online invoices if that is what you prefer.
Affordable Tow Truck Surrey Company
With today's economy, many people are looking for cheap towing. The word cheap, however, is synonymous with receiving bad service. With our company, you can rest assured that our prices are affordable, in line with industry standards, while providing better value than any other alternative.
The price for car towing in Surrey or Langley will depend on the size of your vehicle and where you would like it towed to. We can also provide a list of recommended mechanics that offer great pricing, are reliable and stand behind their repairs.
Besides having the most reviews on Google Maps for tow truck related services, you can call us if your car broke down on the side of the road. We may be able to help you get back on the road without needing a tow at all. Something like a car battery failing can be something we can fix on the side of the road, as well as any other minor issues.
Our Roadside Assistance
If you're stuck on the side of the road, we want to get you back on the road safely. We are open 24 hours per day, 7 days per week so that you can always count on Gucci Towing.
Click to all view all services
Our Service Areas for Tow Trucks
Gucci Towing has become one of the most highly rated towing company in all of the Lower Mainland, BC because we have extremely short wait times, great pricing and fantastic customer service. We have dispatch locations in Surrey and Maple Ridge.
Surrey
Langley
Abbotsford
Maple Ridge
Mission
White Rock
Vancouver
North Vancouver
Richmond
Burnaby
New Westminster
Coquitlam
Best towing Surrey could ask for!
With over 900 reviews on Google Maps, there's a reason why we're one of the most wildly popular tow truck companies in the Fraser Valley.
Book Towing Service
If you're interested in requesting to book a tow with us, you can do so by filling out the form below. For faster service, please give our phone number a call.
Towing Near Me
Because we have 8 tow trucks in our fleet, we're able to get to you much faster than other companies.

See why everyone is getting hooked on Gucci.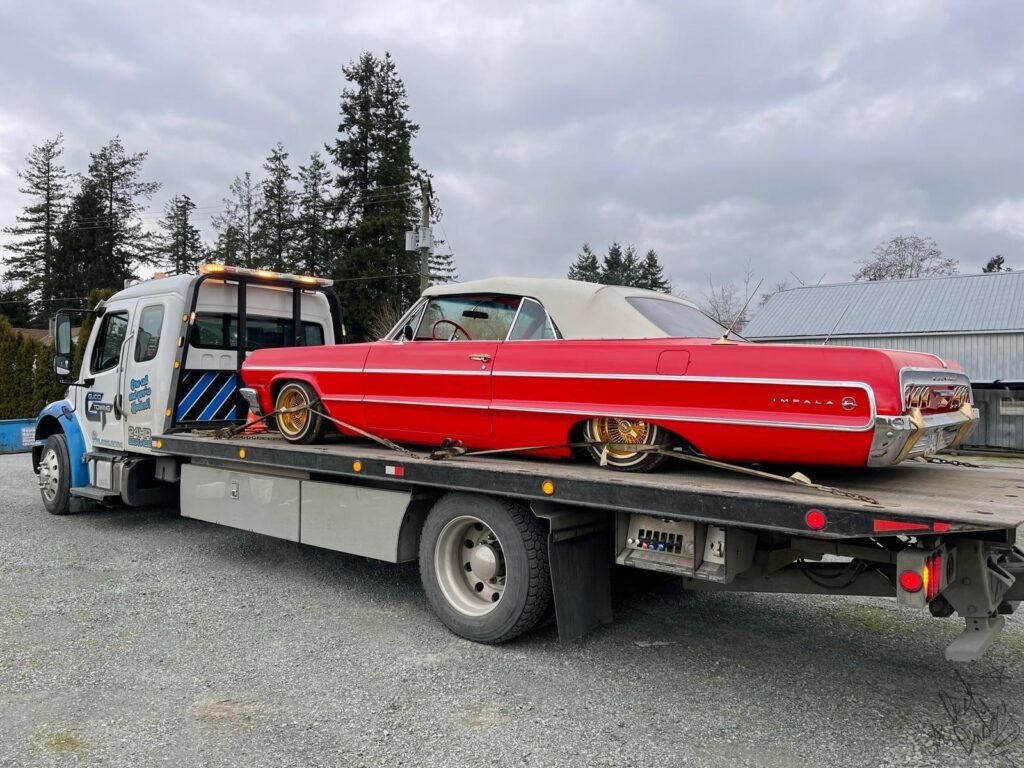 About Surrey
Surrey is a city in British Columbia, Canada. It's part of the Metro Vancouver area and lies between the Fraser River and the U.S. border. In Peace Arch Provincial Park, a white arch marks the international boundary between Canada and the U.S. On Boundary Bay, the Ocean Point Shoreline Walk curls along Crescent Beach. Migrating birds gather at Blackie Spit. Surrey has a population of over 518,467 people.
Area: 317.4 km²
Top sights in Surrey:
Crescent Beach, Peace Arch Provincial Park, Historic Stewart Farm
Is Surrey BC a good place to live?

Certainly! Surrey's close proximity to Vancouver, cheaper housing, and many schools make it a great city for people of all ages and circumstances. It also has a lot of access to nature, as well as a great hospital system, among other excellent features.
What is Surrey British Columbia known for?

The City of Surrey is the largest city by land area and second most populated in Metro Vancouver. We are a forward-thinking, globally recognized leader in building vibrant, sustainable communities through technology and innovation. Our city is one of the fastest growing, culturally diverse cities in Canada.
Is Surrey and British Columbia same?

Surrey is a city in British Columbia, Canada. It is located south of the Fraser River on the Canada–United States border.
What is the nicest part of Surrey BC?

There are many great areas in Surrey. Here is a list of seven of the best areas in Surrey, BC, to live in.

1) Guildford
2) Morgan Creek
3) Newton
4) Cloverdale
5) Sunnyside Park
6) Clayton
7) Fleetwood